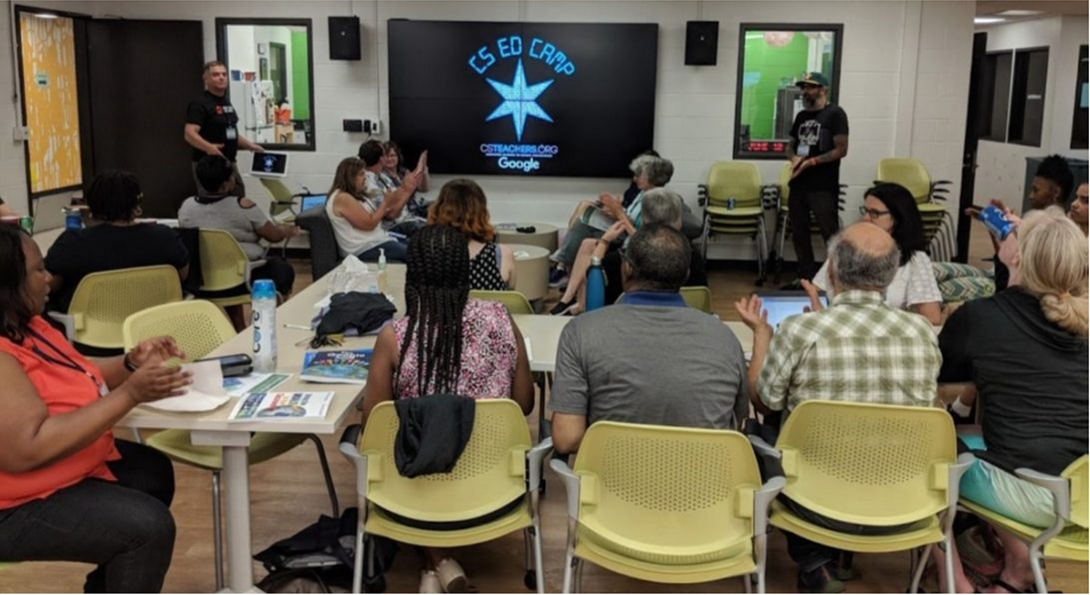 On the education front, things aren't all awful! This is the education storey that the media is oblivious to: teachers who genuinely care about their professions and pupils, and who are committed to continuing their education.
The School at Columbia University hosted EdCamp NYC this past Saturday. It was one of many EdCamps taking place around the United States and Canada, which are free, participant-driven unconferences. What is the goal? Professional development that is both meaningful and differentiated (read: PD that doesn't put you to sleep.)
Unconferences are structured but casual gatherings. Participants at EdCamps can use the wish board to submit subjects they'd want to discuss. The subjects for the sessions are decided cooperatively and publicised on the session board. Participants are told they can attend any sessions they wish during the initial opening chat in the main room, and they are expressly instructed to change sessions and move around as needed to ensure they are getting PD that suits their requirements.
While the supporting materials make use of every technological tool at their disposal, several participants choose to go low-tech, choosing their sessions using index cards on a bulletin board and conducting/attending sessions with only a notebook and pencil as a tool. EdCamps are open to all educators, regardless of their level of technological expertise.
The meetings are only an hour long, with the majority of that time spent to participant dialogues and exchanges. Throughout the day, there is plenty of opportunity for networking, mingling, and sharing ideas: breakfast lasts an hour, lunch lasts 90 minutes (the greatest luxury of all for classroom instructors, no? ), and there are 20 minute pauses in between sessions. This allows participants to continue talking while also giving them time to think, share, and reflect before moving on to another topic. The overall result of this schedule is a relaxing, non-rushed day of PD in which casual chats are appreciated just as much as formal sessions.
Resources are posted on the wiki after EdCamp, and attendees can continue to exchange ideas on Twitter using the #edcampnyc hashtag. The fantastic Cybrary Man's website also has a smackdown, or share-and-tell, of websites, resources, and instructional tactics.
Because EdCamps are usually hosted at schools, another advantage of going is the opportunity to see other teachers' classes. Looking around gave me so many fantastic ideas for organisation and administration!
EdCamps' unconference format is a wonderful model for school-based professional development. Because the model relies on the experience of teaching staff rather than outsiders, it saves the district money. Teachers will find it more useful because they will be able to select from a variety of session subjects and choose which ones to attend. Unconferences aren't just "drive-by professional development," when teachers are bombarded with new information and then forgotten. Because there are so many online options for teachers to share how they're implementing their new ideas in the classroom and receive support and feedback, the PD is genuinely continuing. You can also check out Why does a school have to fundraise?
So, what are your options for getting involved? Find a local EdCamp or start your own! Propose to your administration that they utilise this approach for the next PD day at your school. Most importantly, spread the news about these free chances for educators to learn and grow together by tweeting, Facebooking, emailing, and other means. Let people know that teachers and schools are doing great things!